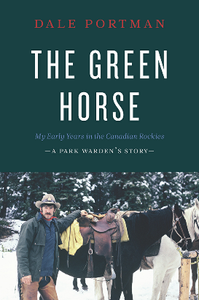 The Green Horse :
My Early Years in the Canadian Rockies – A Park Warden's Story
by Dale Portman
English | 2017 | ISBN: 1771602260 | 328 Pages | ePUB | 20.5 MB
An inspiring, humorous and adventure-packed mountain memoir that takes the reader on a journey into western Canada's backcountry parks during the raucous 1960s and 1970s.
Born in the west but raised initially in the east, Dale Portman was eight years old when his family headed back to the land of the Rockies. Growing up in Calgary, he was introduced to the Rocky Mountains at an early age and as a young man eventually found work in Banff National Park, where he spent most of his time in the saddle while working for outfitter Bert Mickle, based out of Skoki Lodge near Lake Louise. Jobs in the local tourist industry and at a couple of ski hills followed. Eventually Dale was drawn to the warden service, doing avalanche control and forecasting in Rogers Pass, with the backcountry of northern Jasper, Yoho National Park and Field, BC, eventually becoming the stage for many memorable, humorous, tragic and life-affirming moments.
The Green Horse takes the reader on a journey through a time when our mountain national parks were less touristy and more substantive. When there was space for everyone to enjoy without having to line up and there was a sense of freedom and adventure in the air.
If you want to support my blog, then you can buy a premium account through any of my files (i.e. on the download page of my book). In this case, I get a percent of sale and can continue to delight you with new books!