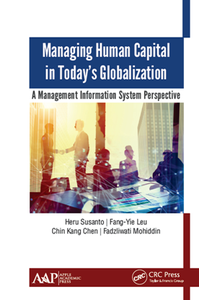 Managing Human Capital in Today's Globalization :
A Management Information System Perspective
by Heru Susanto, Fang-Yie Leu
English | 2019 | ISBN: 1771887389 | 414 Pages | PDF | 12.6 MB
This book explores important issues in human capital in human resource management as it relates to management information systems (MIS). It highlights how management information systems are implemented and the potential for employee resistance, offering behavioral strategies to involve employees in adopting effective MIS and in overcoming resistance during change. The authors also look at the available research that focuses on the changing skills requirements of employees in the context of both MIS perspectives and HRM perspectives. They address how current trends have evolved into a hyper-emerging market of competitive advantage and fast-changing environments toward globalization.
The authors also address:
- workforce planning and management systems
- strategic human resource management
- re-engineering work processes for improved productivity
- work-force diversity
- the integration of MIS-HRIS and employee involvement
- human resource globalization and MIS implications
- the impact of digital technology on decentralized work sites
- organizational continuous improvement programs