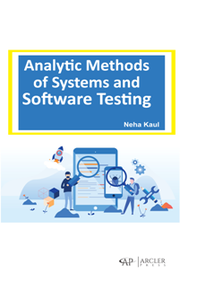 Analytic Methods of Systems and Software Testing
by Neha Kaul
English | 2021 | ISBN: 1774078066 | 324 Pages | True PDF | 12.7 MB
As software has become ubiquitous to our way of life in the 21st century, the role of testing has evolved considerably. Software and Systems Testing Methods provides an educational and practical way of teaching software testing. Anybody who is looking to understand, research and implement software testing can benefit from this book. It covers several aspects of testing starting from the history of testing all the way to practical implementations of testing frameworks. The book delves into the importance of testing by means of real-world case studies, discusses methods of software testing, best practices and provides a comprehensive set of practical yet simple examples of software testing frameworks.
If you want to support my blog, then you can buy a premium account through any of my files (i.e. on the download page of my book). In this case, I get a percent of sale and can continue to delight you with new books!