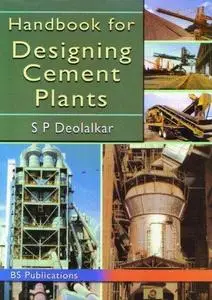 Handbook for Designing Cement Plants By S.P. Deolalkar
2009 | 1295 Pages | ISBN: 8178001454 | PDF | 59 MB
The book explains theoretical aspects of various processes in making cement at various stages as also steps in sizing of major machinery and auxiliaries. All in all it is a very comprehensive and practical handbook. The contents of the book are divided in eight sections covering all aspects of designing cement plants from scratch to guide step by step through various stages involved in setting up a cement plant: 1. Basics 2. Machinery used in making cement 3. Techno-economic feasibility studies 4. Civil design and construction 5. Electricals and instrumentation 6. Layouts and detailed engineering 7. Selecting and ordering machinery 8. Reference section It will be of great use to Cement Plant Consultants, Cement Technologists, and Cement Machinery Manufactures and most certainly to Entrepreneurs and Cement Plant Personnel, Staff of Design and Drawing Offices who have the responsibility to develop layouts would find in it a very handy guide.