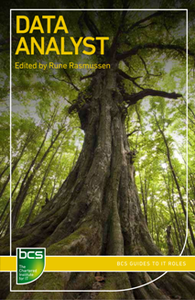 Data Analyst : Careers in Data Analysis
by Harish Gulati, Rune Rasmussen
English | 2019 | ISBN: 1780174322 | 204 Pages | PDF/ePub | 7.9 MB
Data is constantly increasing and data analysts are in higher demand than ever. This book is an essential guide to the role of data analyst. Aspiring data analysts will discover what data analysts do all day, what skills they will need for the role, and what regulations they will be required to adhere to. Practising data analysts can explore useful data analysis tools, methods and techniques, brush up on best practices and look at how they can advance their career.
"Data Analyst is an entertaining and comprehensive guide to an increasingly important role in modern life. An upbeat romp through all facets, it introduces and explains definitions, techniques, structures, regulations and career paths at a pace which leaves no room for boredom. For someone contemplating life as a data analyst, this book is an eloquent eye-opener on what to expect and how to get involved, written by people who know. Written not unlike a piece of code, it does the job efficiently and thoroughly. Practical career tips, anecdotes and a day-in-the-life description bring the mysteries of the profession to life. The authors have a passion for the subject and do a good job in sharing their enthusiasm. Packed with useful information, the book is clearly aimed that those starting out, although many seasoned professionals may also consider it a valuable resource, particularly if considering a new career direction." - Hugh Clark, Award Winning Quant Hedge Fund Manager, retired, and Strategic expert consultant in banking
If you want to support my blog, then you can buy a premium account through any of my files (i.e. on the download page of my book). In this case, I get a percent of sale and can continue to delight you with new books!