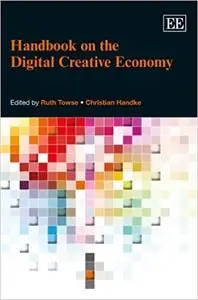 Ruth Towse, "Handbook on the Digital Creative Economy "
English | ISBN: 1781004889 | 2014 | 456 pages | PDF | 4 MB
Digital technologies have transformed the way many creative works are generated, disseminated and used. They have made cultural products more accessible, challenged established business models and the copyright system, and blurred the boundary between producers and consumers. This unique resource presents an up-to-date overview of academic research on the impact of digitization in the creative sector of the economy.
In 37 chapters, this coherent volume brings together contributions by experts on many aspects of digitization in the creative industries. With its interdisciplinary approach and detailed studies of digitization in the arts, media and cultural industries, the Handbook provides accessible material for a range of courses. It will be thought-provoking reading for academics, researchers, students and policy-makers interested in progress in the creative economy.
Contributors include: P. Arora, K. Atladottír, P. Bakker, J. Banks, W.J. Baumol, C. Bekar, A. Bruns, S. Cunningham, P. Di Cola, G. Doyle, K. van Eijck, J. Farchy, M. Favale, T. Flew, M. Gansemer, P. Goodridge, C. Handke, E. Haswell, A. Henten, R.M. Hilty, F. Homberg, R. Inglehart, A. Johansson, A. Katz, H. van Kranenburg, M. Kretschmer, M. Latzer, S.J. Liebowitz, M. Majorana, D. Mendis, F. Müller-Langer, T. Navarrete, S. Nérisson, P. Norris, J. Petrou, J. Poort, J. Potts, A. Pratt, M. Scheufen, N. Searle, D. Secchi, P. Stepan, A. Swift, R. Tadayoni, R. Towse, P. Tschmuck, F. Vermeylen, P. Waelbroek, R. Watt, G. White, P. Wikstrom, G. Withers, R. van der Wurff, G.W. Ziggers