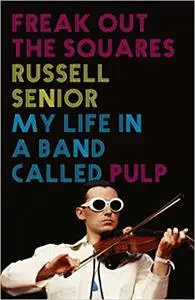 Russell Senior, "Freak Out the Squares: Life in a band called Pulp"
English | 2015 | ISBN: 1781314381 | 320 pages | EPUB | 5.6 MB
Russell Senior was Jarvis Cocker's partner-in-crime in Pulp, and the most stylish man in Britpop - known in certain circles as the Imelda Marcos of sunglasses. Freak Out the Squares is Russell's exceptionally witty, unusual and enlightening account of the heady times being a key member of Britpop's best-loved and most enduringly relevant band. The first account of life in Pulp, it takes as its starting point the band's reunion tour in 2011, which culminated in a triumphant Glastonbury performance. It's packed with good stories about Britpop luminaries, including Jarvis of course, and digs back into Pulp's origins in Sheffield and to their glory days at the height of Britpop. Russell Senior is a man too smart to have ever been a pop star. And Pulp were too odd a band ever to have become so big. But we can only be grateful that he was, and they did – and that Freak Out the Squares tells the story in Russell's inimitable, entertaining and fascinating way.