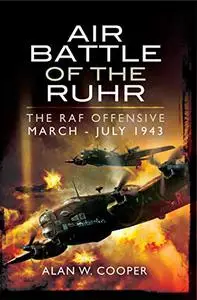 Alan W. Cooper, "Air Battle of the Ruhr: RAF Offensive March - July 1943"
English | 2013 | ISBN: 1781590621 | EPUB | pages: 256 | 6.4 mb
First published to acclaim in 1992, this book deals with the exploits of Bomber Command during their offensive against German Industry in the Ruhr during World War II. The author begins by describing the role of Bomber Command and goes on to define the Ruhr area and its great importance in terms of industrial output to the Germans. The author provides the statistics for bombers dispatched, the number, which actually got to the targets and those, which never made it for one reason or another. Air Battle of the Ruhr is a complete overview of a major aspect of the air war against mainland Germany – a subject that has rarely been dealt with in such depth. This book fills in an important gap in the history of the Royal Air Force.