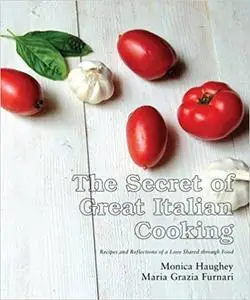 Monica Haughey, Maria Casella Grazia, "The Secret of Great Italian Cooking: Recipes and Reflections of a Love Shared Through Food"
English | ISBN: 1782379762 | 2015 | 63 pages | AZW3 | 3 MB
A recipe book based on a story of how an Irish woman, moved to Sicily in the 1960's and became immersed in a rich food culture which valued the seasons, local produce and people coming together around food.Each summer Paula Eagar came back to Ireland to visit her family with large bottles of Olive Oil and lumps of Parmesan cheese as gifts for her family; she was introducing them to the pleasures and sensual delights of the Italian food culture.Last summer her daughter Maria Grazia, led two cookery classes in Dublin and the classes were a real inspiration to those who attended even though the people who came were already good cooks. In this book the authors reflect on the Italian food culture and how it might inspire us to cook seasonally, eat well and to prioritise good food. The recipes have been tried and tested for many years by Maria Grazia and her family and are simple yet delicious and the selection includes recipes for soups, pasta dishes, pesto and a delicious apple cake made with Olive oil.