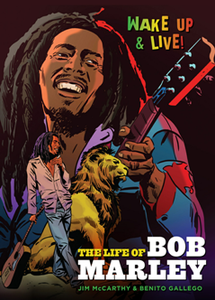 Wake Up and Live! : The Life of Bob Marley
by Jim McCarthy and Benito Gallego
English | 2017 | ISBN: 1783059672 | 160 Pages | ePUB | 85 MB
Wake Up and Live is a bold graphic novel depicting the life of Jamaican reggae singer, songwriter and musician Bob Marley. As a committed Rastafari, he became a symbol of Jamaican culture and identity, a harbinger of peace and truth who resonated with audiences worldwide.
Diagnosed with cancer in 1977, Bob Marley finally succumbed to the disease on 11 May 1981 at the age of 36. A hero in his own time, he is now considered one of the most influential musicians ever. Wake Up and Live celebrates this journey, capturing the spirit of both the man and the music in every vivid frame.
When he died, the Jamaican Prime Minister said Bob Marley had been 'an experience which left an indelible imprint with each encounter. Such a man cannot be erased from the mind. He is part of the collective consciousness of the nation'.