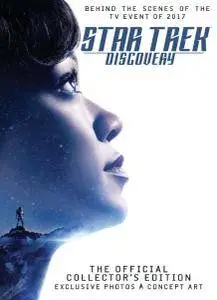 Star Trek: Discovery
2017 | English | ISBN: 1785861573 | True PDF | 100 pages | 16 MB
The ultimate companion to the critically acclaimed new Star Trek TV series – Star Trek: Discovery!
Set ten years prior to the U.S.S. Enterprise embarking on her historic five-year mission, Star Trek: Discovery takes place during a period of galactic turmoil.
At the edge of known space, the U.S.S. Shenzhou encounters an ancient Klingon object, and her first officer, Michael Burnham, crosses a line. As conflict erupts between the United Federation of Planets and the Klingon Empire, and chaos sweeps across the Galaxy, can the Federation's ideals of equality and peaceful co-existence survive? And can Burnham, with the new crew of the U.S.S. Discovery, help end this war that she started?
Packed with character profiles, behind-the-scenes features and everything you need to know about the new timeline, this is the must-have companion to Star Trek: Discovery!