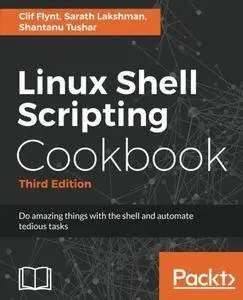 Clif Flynt,‎ Sarath Lakshman,‎ Shantanu Tushar, "Linux Shell Scripting Cookbook - Third Edition"
English | ISBN: 1785881981 | 2017 | EPUB/MOBI/Code files | 552 pages | 5,5 MB
Do amazing things with the shell
About This Book
Become an expert in creating powerful shell scripts and explore the full possibilities of the shell
Automate any administrative task you could imagine, with shell scripts
Packed with easy-to-follow recipes on new features on Linux, particularly, Debian-based, to help you accomplish even the most complex tasks with ease
Who This Book Is For
If you are a beginner or an intermediate Linux user who wants to master the skill of quickly writing scripts and automate tasks without reading the entire man pages, then this book is for you. You can start writing scripts and one-liners by simply looking at the relevant recipe and its descriptions without any working knowledge of shell scripting or Linux. Intermediate / advanced users, system administrators / developers, and programmers can use this book as a reference when they face problems while coding.
What You Will Learn
Interact with websites via scripts
Write shell scripts to mine and process data from the Web
Automate system backups and other repetitive tasks with crontab
Create, compress, and encrypt archives of your critical data.
Configure and monitor Ethernet and wireless networks
Monitor and log network and system activity
Tune your system for optimal performance
Improve your system's security
Identify resource hogs and network bottlenecks
Extract audio from video files
Create web photo albums
Use git or fossil to manage revision control and interact with FOSS projects