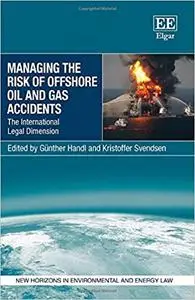 Managing the Risk of Offshore Oil and Gas Accidents: The International Legal Dimension (New Horizons in Environmental and Energy Law) by Günther Handl and Kristoffer Svendsen
English | July 26, 2019 | ISBN: 1786436736 | 502 pages | PDF | 5 MB
This book provides a comprehensive analysis of the international legal dimension of the management of the risk of accidents associated with offshore oil and gas activities. The editors cover the prevention and minimization of harm as well as the post-accident management of loss through liability and compensation arrangements and the processing of mass claims for compensation.
While postulating a public international law framework for offshore oil and gas operations globally and exploring critical elements thereof, this book draws heavily on comparative assessments of domestic concepts and approaches, especially as regards offshore safety, liability for and compensation of harm, and mass tort claims procedures.
With a team of experts from all over world as contributing authors, the book offers a unique perspective on what remains a pressing international concern: The safety of offshore operations globally and the proper allocation of loss should a major accident occur. Government officials, international civil servants and academics in related fields will find the book a valuable resource.
My nickname -
interes