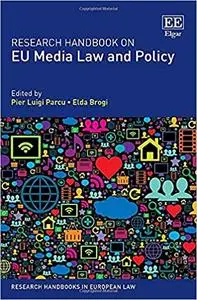 Pier L. Parcu, "Research Handbook on EU Media Law and Policy "
English | ISBN: 1786439328 | 2021 | 480 pages | PDF | 6 MB
This cutting-edge Research Handbook presents a comprehensive overview of the European Union's influence on the regulation of the media sector in the digital age. It explores and compares several areas of European legislation that have an impact on the media sector, defined in a broad sense for its capacity to influence the public opinion at large.
Utilising law and policy perspectives, chapters explain EU media policy by successive approximations, moving from the general to the specific. It first examines certain fundamental pillars of EU legal assets that undoubtedly help to characterize the action of the European Union in the industry, then moves to analyse other fields of legislation, where a series of 'sectoral' rules also affect and shape the media. These fields include competition rules, rules on electronic communications, rules on e-Commerce, and data protection regulation, up to the recently revised Audiovisual Media Services Directive. In the final section of the , several authors discuss how the digital disruption is shaping the future of European media policy. The Research Handbook also has a particular focus on the methodology of the Media Pluralism Monitor; a major tool used to specifically assess the risks for media pluralism and freedom in Europe.
Read more