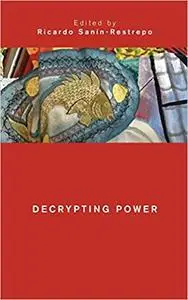 Decrypting Power (Global Critical Caribbean Thought) by Ricardo Sanín-Restrepo
English | Sep 14, 2018 | ISBN: 1786609274, 1786615541 | 372 pages | PDF | 3 MB
Decrypting Power aims to reach a unifying concept that allows the connection of the fundamental theses stemming from critical legal studies, Subaltern studies, decolonization, law and society, global political economy, critical geopolitics and theories of de-coloniality. This volume proposes that this concept is the 'encryption of power', a category of analysis that reveals the weakness of political liberalism when it takes the place of the legitimate fundament of democracy, as well as its consummate capacity to conceal new mechanisms of global power.
The theory of encryption of power understands that there is only a world where difference exists as the fundamental and sole order, but also that such a possibility is heavily obstructed by the concentration of power in forms of oppression. The world hangs on the thread of this entangled reality, made up of difference and its denial, of democracy and its simulations, of truth and its codifications. The decryption of power is then, above all, a theory of justice essential to radical democracy, which comes fully-equipped to prevail over the conditions that deny the possibility of an egalitarian world.
My nickname -
interes