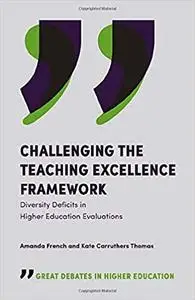 Amanda French, "Challenging the Teaching Excellence Framework: Diversity Deficits in Higher Education Evaluations "
English | ISBN: 1787695360 | 2020 | 256 pages | PDF | 2 MB
The Teaching Excellence Framework (TEF) s aims, implementation and effect on the English higher education sector remains a controversial and often contested subject. This text offers a stimulating and wide-ranging interdisciplinary discussion of the implications of the TEF on the UK s fast-moving policy environment, and increasingly neoliberal higher education sector.
Questioning the basic premise of the TEF, the authors tease out how students and staff are affected in different and often unfair ways by its implementation. Whilst acknowledging that the TEF has focused management attention on ways in which a diverse student population is, or is not, supported in their learning, this book highlights how it remains problematically silent on other kinds of diversity in the system such as specialised courses, diverse teaching styles, and varying institution sizes.
Offering readers ways of rethinking and resisting teaching excellence , this book provides a timely examination of how, in various ways, the TEF, treated as an exclusionary quality assurance system, is likely to reinforce extant structural inequalities and competitive hierarchies in the sector.
Read more