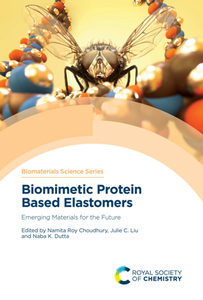 Biomimetic Protein Based Elastomers : Emerging Materials for the Future
by Namita Roy Choudhury, Julie C Liu
English | 2022 | ISBN: 1788010787 | 404 Pages | True ePUB | 5.82 MB
Elastomeric proteins are ubiquitous in nature, where they have evolved precise structures and properties that are necessary to perform specific biological roles and functions. This book emphasizes the impact of amino acid sequence on modulating protein structure, properties, and function. Examples include conformational ensemble dynamics, environmental responsiveness, self-assembly, physico-mechanical properties, morphology, and properties tailored for biomedical applications. This foundational framework is not only critical to advance scientific understanding and knowledge on elastomeric proteins but also enables the conceptualization, rational design, and development of biosynthetic elastomers and their analogous polypeptides for a variety of applications.
Edited and contributed by pioneering researchers in the field, the book provides a timely overview of the materials, along with the synthesis techniques, the unique characteristics of elastomeric proteins, and biomedical and industrial applications. The book will provide a reference for graduate students and researchers interested in designing biomimetic proteins tailored for various functions.