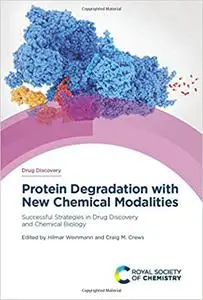 Hilmar Weinmann, "Protein Degradation with New Chemical Modalities: Successful Strategies in Drug Discovery and Chemical Biology "
English | ISBN: 1788016866 | 2020 | 380 pages | PDF | 27 MB
Targeting protein degradation using small molecules is one of the most exciting small-molecule therapeutic strategies in decades and a rapidly growing area of research. In particular, the development of proteolysis targeting chimera (PROTACs) as potential drugs capable of recruiting target proteins to the cellular quality control machinery for elimination has opened new avenues to address traditionally 'difficult to target' proteins. This book provides a comprehensive overview from the leading academic and industrial experts on recent developments, scope and limitations in this dynamically growing research area; an ideal reference work for researchers in drug discovery and chemical biology as well as advanced students.
Read more