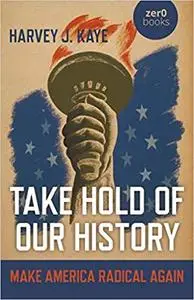 Harvey J. Kaye, "Take Hold of Our History: Make America Radical Again"
ISBN: 1789043557 | 2019 | EPUB | 160 pages | 362 KB
The eighteen essays and speeches in Take Hold of Our History render a manifesto – a call to remember, redeem, and embrace the American radical story and tradition in favor of cultivating American historical memory and imagination and making America radical once again. For too long we have allowed the right to hijack the past and suppress, efface, lie about, and/or appropriate the essentially radical story of America from the struggles of the Revolution to those of the Age of Roosevelt and the 1960s. And no less tragically, we on the left, apparently haunted by the worst of our national experience, have turned our back on our own story and deferred to the tales of conservatives and reactionaries. Fleeing from the past, we merely compound the tragedies and ironies of American history, for we turn our backs on both the nation's democratic creed and radical imperative, but also the struggles from the bottom up, the struggles in which working people and others have laid hold of America's revolutionary promise and succeeded in making the United States freer, more equal and more democratic, at times, radically so. As Bill Moyers put it in 2008: "Here in the first decade of the twenty-first century the story that becomes America's dominant narrative will shape our collective imagination and our politics for a long time." The time has come for us to advance that narrative.