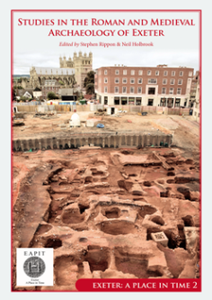 Studies in the Roman and Medieval Archaeology of Exeter :
Exeter, A Place in Time 2
by Stephen Rippon and Neil Holbrook
English | 2021 | ISBN: 1789256194 | 665 Pages | PDF | 64 MB
This second volume presenting the research carried out through the Exeter: A Place in Time project presents a series of specialist contributions that underpin the general overview published in the first volume. Chapter 2 provides summaries of the excavations carried out within the city of Exeter between 1812 and 2019, while Chapter 3 draws together the evidence for the plan of the legionary fortress and the streets and buildings of the Roman town. Chapter 4 presents the medieval documentary evidence relating to the excavations at three sites in central Exeter (High Street, Trichay Street and Goldsmith Street), with the excavation reports being in Chapter 5-7. Chapter 8 reports on the excavations and documentary research at Rack Street in the south-east quarter of the city. There follows a series of papers covering recent research into the archaeometallurgical debris, dendrochronology, Roman pottery, Roman ceramic building material, Roman querns and millstones, Claudian coins, an overview of the Roman coins from Exeter and Devon, medieval pottery, and the human remains found in a series of medieval cemeteries.
If you want to support my blog, then you can buy a premium account through any of my files (i.e. on the download page of my book). In this case, I get a percent of sale and can continue to delight you with new books!