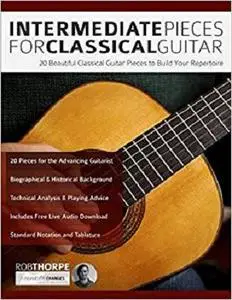 Intermediate Pieces for Classical Guitar: 20 Beautiful Classical Guitar Pieces to Build Your Repertoire by Mr Rob Thorpe, Mr Joseph Alexander
English | ISBN: 1789330084 | 81 pages | EPUB | May 3, 2018 | 9.27 Mb
Master 20 Beautiful Classical Guitar Pieces for Intermediate Players
No Need to Read Music
Intermediate Pieces for Classical Guitar
Do you want to learn classical guitar, but don't know how to read music?
Do you want to build an impressive repertoire of complete pieces, but don't know where to start?
Do you want to develop style and authenticity on the classical guitar?
Intermediate Pieces for Classical Guitar features 20 carefully selected pieces aimed at Intermediate players who want to learn to play entire pieces. The natural progression of the studies will help you develop your classical guitar language quickly and easily. Notation is included, but each piece is also presented in easy-to-read tablature, so the ability to read music is not necessary.
These classical guitar pieces include arrangements by past masters of the instrument, famous piano pieces specially transcribed for guitar, and some original pieces specially written for this book.
Learn 20 great classical guitar pieces written by legends of the instrument
Presented in easy-to-read tablature and notation. No need to read music
Includes helpful analysis and breakdown of each piece, along with its historical background
FREE audio download – hear how each piece sounds to speed up your learning
Carefully selected pieces start easy and gradually become more complex so you can improve and classical guitar naturally as the book progresses