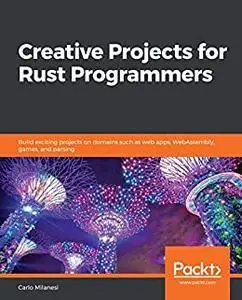 Creative Projects for Rust Programmers: Build exciting projects on domains such as web apps, WebAssembly, games, and parsing
by Carlo Milanesi
English | 2020 | ISBN: 1789346223 | 404 Pages | PDF EPUB | 9 MB
The book gets you up and running with high-quality open source libraries and frameworks available in the Rust ecosystem that can help you to develop efficient applications with Rust. You'll learn how to build projects in domains such as data access, RESTful web services, web applications, 2D games for web and desktop, interpreters and compilers, emulators, and Linux Kernel modules. For each of these application types, you'll use frameworks such as Actix, Tera, Yew, Quicksilver, ggez, and nom. This book will not only help you to build on your knowledge of Rust but also help you to choose an appropriate framework for building your project.