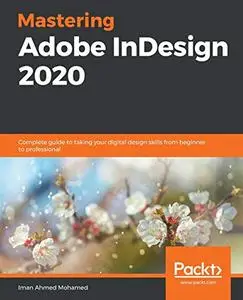 Mastering Adobe InDesign 2020 by Iman Ahmed Mohamed
English | January 9, 2020 | ISBN: 1789538947 | EPUB/PDF | 389 pages | 370/211 MB
A step-by-step guide, filled with design examples and secret techniques, to help you make the most out of Adobe InDesign
Key Features
Step-by-step guide from planning the design project to generating the desired output for web and print
Create engaging design solutions for print media such as posters, magazines, books, brochures, among others
Uncover InDesign secrets and back doors to increase productivity and simplify the design process
Book Description
Indesign is a rich application that inspires users to create brilliant designs for print, web, and digital media. This book attempts to simplify the rich tools, properties and techniques of Adobe InDesign through extensive coverage on design processes.
The book starts with helping you get comfortable with the workspace of InDesign and take you through learning the menus and functions of InDesign. The book sets a roadmap for going from Beginner to Professional by building a full project, starting from the first chapter and end up with a full project by the end of the book. Each chapter includes the shortcuts for Windows and macOS at the end associated with every tool or option in InDesign. Once you get started using InDesign environment, the book extensively touches upon InDesign frameworks, Workspace, Pages, Master Pages, Text, among others functions and tools.
By the end of the book, the readers will be able to design, develop, and troubleshoot their design projects and enhance them with expert tips and tricks.
What you will learn
Core functions and tools of Adobe InDesign for creating pages, book, and magazine designs
Explore InDesign workspace, creation tools, and applications structure
Build a complete design project applying the techniques learned through the book
Transform design elements using both InDesign library and Creative Cloud library
Create and edit documents using the Master page feature in InDesign
Explore various options for working with images, shapes, text, tables, and colors for generating the desired output
Who This Book Is For
The book is intended for any creative individuals, professionals, and non-designers who want to build designs of books, magazines, pamphlets, among others. The book also helps any intermediate-level Indesign users to know more and progress to become advanced-level Indesign users. The book does not assume any prior knowledge of design tools or techniques.