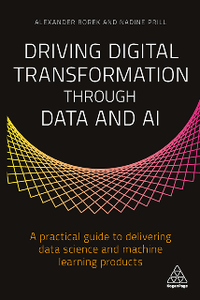 Driving Digital Transformation Through Data and AI :
A Practical Guide to Delivering Data Science and Machine Learning Products
by Alexander Borek and Nadine Prill
English | 2020 | ISBN: 1789665396 | 265 Pages | PDF | 9.5 MB
Leading tech companies such as Netflix, Amazon and Uber use data science and machine learning at scale in their core business processes, whereas most traditional companies struggle to expand their machine learning projects beyond a small pilot scope. This book enables organizations to truly embrace the benefits of digital transformation by anchoring data and AI products at the core of their business.
It provides executives with the essential tools and concepts to establish a data and AI portfolio strategy as well as the organizational setup and agile processes that are required to deliver machine learning products at scale. Key consideration is given to advancing the data architecture and governance, balancing stakeholder needs and breaking organizational silos through new ways of working.
Each chapter includes templates, common pitfalls and global case studies covering industries such as insurance, fashion, consumer goods, finance, manufacturing and automotive. Covering a holistic perspective on strategy, technology, product and company culture, Driving Digital Transformation through Data and AI guides the organizational transformation required to get ahead in the age of AI.
If you want to support my blog, then you can buy a premium account through any of my files (i.e. on the download page of my book). In this case, I get a percent of sale and can continue to delight you with new books!