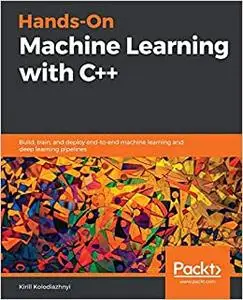 Hands-On Machine Learning with C++: Build, train, and deploy end-to-end machine learning and deep learning pipelines
by Kirill Kolodiazhnyi
English | 2020 | ISBN: 1789955335 | 530 Pages | PDF EPUB | 43 MB
C++ can make your machine learning models run faster and more efficiently. This handy guide will help you learn the fundamentals of machine learning (ML), showing you how to use C++ libraries to get the most out of your data. This book makes machine learning with C++ for beginners easy with its example-based approach, demonstrating how to implement supervised and unsupervised ML algorithms through real-world examples.