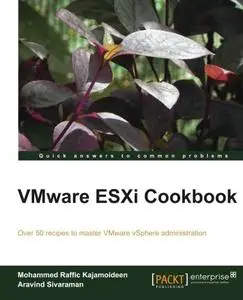 VMware ESXi Cookbook by Mohammed Raffic Kajamoideen
English | 26 Mar. 2014 | ISBN: 1782170065 | 334 Pages | PDF | 20.92 MB
Over 50 recipes to master VMware vSphere administration About This Book Understand the concepts of virtualization by deploying vSphere web client to perform vSphere administration Learn important aspects of vSphere including administration, security, performance, and configuring vSphere Management Assistant (VMA) to run commands and scripts without the need to authenticate every attempt VMware ESXi 5.1 Cookbook is a recipe-based guide to the administration of VMware vSphere Who This Book Is For "VMware ESXi 5.1 Cookbook" is written for technical professionals with system administration skills and foundation knowledge of virtualization and who need to learn about the installation, configuration, and administration of vSphere 5.1. Essential virtualization and ESX or ESXi knowledge is advantageous.