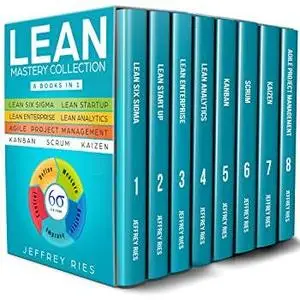 Lean Mastery Collection: 8 Books in 1 - Lean Six Sigma, Lean Startup, Lean Enterprise, Lean Analytics, Agile Project Management, Kanban, Scrum, Kaizen by Jeffrey Ries
2018 | ISBN: 1791326447 | English | 420 pages | EPUB | 0.5 MB
Lean-Lean Six Sigma, Lean Startup, Lean Enterprise, Lean Analytics, Agile Project Management, Kanban, Scrum, Kaizen
8 Books in 1 Boxset Collection
Master Lean Methodology & become an expert!
Get your Lean Mastery book collection Now!
Included in this collection are the top books to help you improve, grow and master your skills on Lean Methodology. Change the way that you do business. This book collection will help you reach near perfection in the products that you sell, the customer service that you provide, and the lack of waste that you achieve.
Included books:
Lean Six Sigma: A Beginner's Step-By-Step Guide To Implementing Six Sigma Methodology to an Enterprise and Manufacturing Process
Lean Startup: The Complete Step-by-Step Lean Six Sigma Startup Guide
Lean Enterprise: The Complete Step-by-Step Startup Guide to Building a Lean Business Using Six Sigma, Kanban & 5s Methodologies
Lean Analytics: The Complete Guide To Using Data To Track, Optimize And Build A Better And Faster Startup Business
Kanban: The Complete Step-by-Step Guide to Agile Project Management with Kanban
Scrum: The Complete Step-By-Step Guide to Managing Product Development Using Agile Framework
Kaizen for Small Business Startup: How to Gain and Maintain a Competitive Edge by Applying the Kaizen Mindset to Your Startup Business and Management-Improve Performance, Communication & Productivity