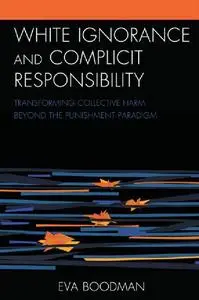 White Ignorance and Complicit Responsibility: Transforming Collective Harm beyond the Punishment Paradigm by Eva Boodman
English | January 10, 2022 | ISBN: 1793639019 | 168 pages | PDF | 1 MB
White ignorance is a form of collective denial that aggressively resists acknowledging the role of race and racism. It dominates our political landscape, warps white moral frameworks and affective responses, intervenes in white self-conceptions, and organizes white identities. In this way, white ignorance poses a problem for conceptions of responsibility that rely on individuals' intentions, causal contributions, or knowledge of the facts. As Eva Boodman shows, our moral concepts for responding to racism are implicated in the process of racialization when they understand responsibility as the attribution of blame or absolution, innocence or guilt. White Ignorance and Complicit Responsibility challenges these binary, punitive moralities, arguing that they reproduce racial harm by encouraging white people to seek innocence and the purification of moral taint instead of addressing the material conditions of racial harm. Instead, Boodman claims the space of complicity as a place of anti-racist possibility. Linking the construction of whiteness to a racist punishment paradigm, this book makes the case for a different way of responding to harm as necessary for dismantling the moral, racial, political, and affective constructs that keep racial capitalism in place.
My nickname -
interes