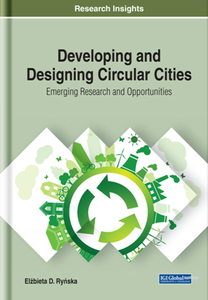 Developing and Designing Circular Cities : Emerging Research and Opportunities
by Elzbieta Rynska
English | 2020 | ISBN: 1799818861 | 210 Pages | ePUB | 35 MB
As the world continues to see an expansion of technological innovations, highly populated areas are starting to adopt sustainable solutions to become more energy efficient. The concept of circular cities is a new economic model that reconfigures products and services in such ways as to eliminate the issues of waste and harmful influences and uses alternative energy resources and materials. Many of these principles are currently being implemented in various regions' policies; however, research is still lacking on the implementation of circular economics in urban areas.
Developing and Designing Circular Cities: Emerging Research and Opportunities is a collection of innovative research on the methods, framework, and implementation of a circular economy within urbanized areas. This book analyzes the various disciplines of circularity within modern cities while also comparing past and future approaches to urban development. While highlighting topics including sustainable development, renewable energy systems, and urban planning, this book is ideally designed for architects, urban planners, contractors, investors, government officials, civil engineers, educators, academicians, researchers, and students.
If you want to support my blog, then you can buy a premium account through any of my files (i.e. on the download page of my book). In this case, I get a percent of sale and can continue to delight you with new books!