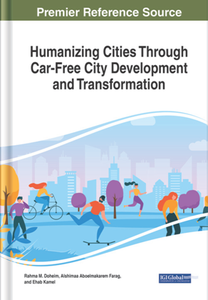 Humanizing Cities Through Car-Free City Development and Transformation
by Rahma M. Doheim, Alshimaa Aboelmakarem Farag
English | 2020 | ISBN: 1799835073 | 335 Pages | PDF | 15 MB
The heavy dependency on private cars has shaped the design of cities. While offering fast, comfortable, and convenient commutes, cars have become the most popular method of transportation, but are also a health crisis due to the toxic emissions they release into the atmosphere as well as the high death toll from traffic accidents. For these reasons, there is a need to minimize the use of cars within cities in favor of greener and humanized urban design that would improve the quality of life and reduce the global threat of climate change.
Humanizing Cities Through Car-Free City Development and Transformation is an essential publication that explores the concepts of car-free cities and city humanization as possible solutions to reduce the deteriorating effect on the environment and the community. The publication discusses the urban initiative to implement pedestrianization and humanization of cities and public spaces to promote the concept of car-free living. Featuring coverage on a wide range of topics including city humanization, smart mobility, and urban policies, this book is ideally designed for urban planners, environmentalists, government officials, policymakers, architects, transportation authorities, researchers, academicians, and students.
If you want to support my blog, then you can buy a premium account through any of my files (i.e. on the download page of my book). In this case, I get a percent of sale and can continue to delight you with new books!