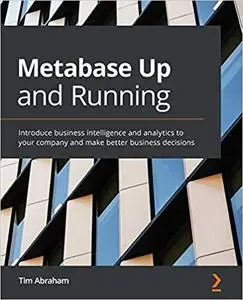 Metabase Up and Running: Introduce business intelligence and analytics in your company and make better business decisions
by Tim Abraham
English | 2020 | ISBN: 1800202318 | 290 Pages | MOBI EPUB | 35 MB
You'll start by installing and setting up Metabase. Next, the book shows you how to create different visualizations, charts, and dashboards to gain insights from your data with the help of examples. As you progress, you'll understand how to share the results with peers in your organization. Later, you'll be able to handle the administration aspect of Metabase by learning how to configure and deploy Metabase, manage accounts, and execute administrative tasks such as adding users and creating permissions and metadata. In addition to this, you'll cover production-related aspects such as embedding Metabase, auditing performance, white-labeling, and data sandboxing, before exploring how to deploy and host your own instance of Metabase that the rest of your organization can use. Throughout the book, you'll explore the entire data analytics journey - from connecting your data sources, visualizing data, and creating dashboards through to daily reporting.