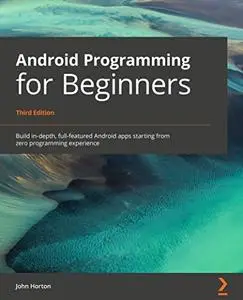 Android Programming for Beginners - Third Edition:
Build in-depth, full-featured Android apps starting from zero programming experience
by John Horton
English | 2021 | ISBN: 1800563434 | 791 Pages | PDF EPUB (True) | 25 MB
Do you want to make a career in programming but don't know where to start? Do you have a great idea for an app but don't know how to make it a reality? Or are you worried that you'll have to learn Java programming to become an Android developer? Look no further! This new and expanded third edition of Android Programming for Beginners will be your guide to creating Android applications from scratch.