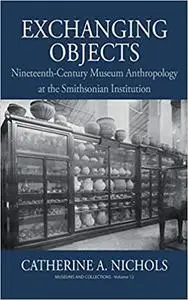 Catherine A. Nichols, "Exchanging Objects: Nineteenth-Century Museum Anthropology at the Smithsonian Institution "
English | ISBN: 1800730527 | 2021 | 268 pages | PDF | 1482 KB
As an historical account of the exchange of "duplicate specimens" between anthropologists at the Smithsonian Institution and museums, collectors, and schools around the world in the late nineteenth century, this book reveals connections between both well-known museums and little-known local institutions, created through the exchange of museum objects. It explores how anthropologists categorized some objects in their collections as "duplicate specimens," making them potential candidates for exchange. This historical form of what museum professionals would now call deaccessioning considers the intellectual and technical requirement of classifying objects in museums, and suggests that a deeper understanding of past museum practice can inform mission-driven contemporary museum work.
Read more