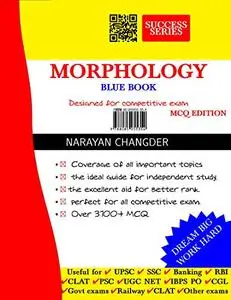 1800+ MORPHOLOGY MCQ by Narayan Changder
English | 2021 | ISBN: N/A | ASIN: B092D7CJD9 | 1017 pages | EPUB | 1.99 Mb
MCQs (Multiple Choice Questions) in MORPHOLOGY is a comprehensive questions book for undergraduate students. The book comprises question on MORPHOLOGY practice questions, MORPHOLOGY test questions, fundamentals of MORPHOLOGY practice questions, MORPHOLOGY questions for competitive examinations and practice questions for MORPHOLOGY certification. In addition, the book consists of 1800+ MORPHOLOGY MCQ (multiple choice questions) to understand the concepts better. This book is essential for students preparing for various competitive examinations all over the world.