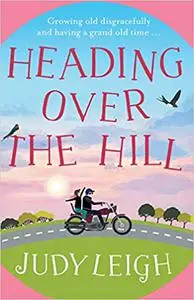 Judy Leigh, "Heading Over the Hill"
English | 2020 | ISBN: 1838895728 | 340 pages | EPUB | 0.4 MB
Growing old disgracefully and having a grand old time…
Billy and Dawnie may be in their seventies, but that won't stop them taking chances or starting again. Their grown-up children have families and lives of their own, so now it's Billy and Dawnie's turn, and a life near the sea in Devon beckons.
But the residents of Margot Street (or Maggot Street as Dawnie insists on calling it), don't quite know what to make of their new neighbours. Billy's loud, shiny and huge Harley Davidson looks out of place next to the safe and sensible Honda Jazz next door, and Dawnie's never-ending range of outrageous wigs and colourful clothes, means she's impossible to miss.
As new friendships are formed and new adventures are shared, Billy and Dawnie start winning their neighbours' affection. And when life teaches them all a terrible lesson, the folks of Margot Street are determined to live every day as if it's their last.
Judy Leigh returns with a soul-warming, rib-tickling, timeless tale of true love, true friendship and happy-ever-afters.
Praise for Judy Leigh:
'Brilliantly funny, emotional and uplifting' Miranda Dickinson
'Lovely . . . a book that assures that life is far from over at seventy' Cathy Hopkins bestselling author of The Kicking the Bucket List
'Brimming with warmth, humour and a love of life… a wonderful escapade' Fiona Gibson, bestselling author of The Woman Who Upped and Left