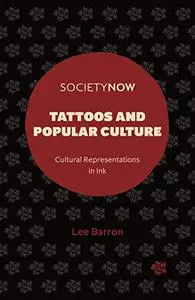 Tattoos and Popular Culture: Cultural Representations in Ink (Societynow) by Lee Barron
October 26, 2020 | ISBN: 1839092181 | English | 228 pages | PDF | 1.6 MB
The rise of tattoos into the mainstream has been a defining aspect of 21st century western culture. Tattoos and Popular Culture showcases how tattoos have been catapulted from 'deviant' and 'alternative' subculture, into a popular culture, becoming a potent signifier of 'difference' for the Millennial generation. From tattooed film superheroes such as Harley Quinn, MTV s Just Tattoo of Us, and the extensively tattooed and mediated bodies of celebrities across social media, tattoos are now not only inscribed into increasing numbers of Millennial and Gen Z bodies, but also into mainstream culture. As the entrenched stigmas associated with tattoos are eroded Barron asks, how do subcultural and mainstream tattoo images and practices co-exist? Which cultural expressions are at the forefront of modern tattoo culture?