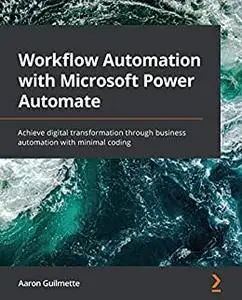 Workflow Automation with Microsoft Power Automate: Achieve digital transformation through business automation with minimal coding
by Aaron Guilmette
English | 2020 | ISBN: 1839213795 | 291 Pages | PDF EPUB MOBI (True) | 39 MB
If you are new to Microsoft Power Automate, this book will give you a comprehensive introduction to help you to get up to speed with automating business processes in no time. Complete with hands-on tutorials, projects, and self-assessment questions, this easy-to-follow guide will show you how to configure automation workflows for business processes between hundreds of Microsoft and third-party applications. Once you understand how to use connectors, triggers, and actions to automate business processes, you'll get to grips with managing user inputs, documents, approvals, and database storage using efficient flow controls. This Power Automate book explains key concepts and takes you through creating your own flows step by step.