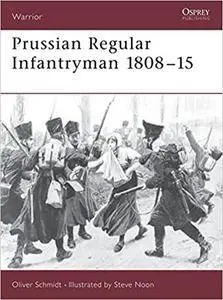 Oliver Schmidt, Steve Noon, "Prussian Regular Infantryman 1808–15"
English | 2003 | ISBN: 1841760560 | PDF | pages: 64 | 11.6 mb
Following the disastrous defeats at Jena and Auerstadt by Napoleon in 1806, the Prussian armed forces were forced to regroup, and radical changes were instigated in all areas.
The fighting spirit and ability of the infantry remained consistently high throughout this period of the Napoleonic Wars (1799-1815), from the dark days of Jena, through the Wars of Liberation and on to victory under Marshal Blücher's command at Waterloo. This title follows a typical Prussian line infantryman through recruitment, training, the routines of daily life and duties, to experiences on campaign and in battle, in this decisive and dynamic period.