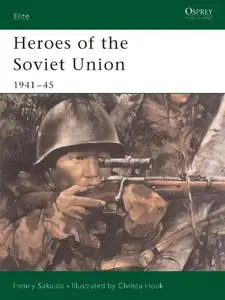 Henry Sakaida, Christa Hook, "Heroes of the Soviet Union 1941–45"
2004 | pages: 66 | ISBN: 1841767697 | PDF | 3,2 mb
Osprey's examination of Soviet heroes of the Great Patriotic War portion of World War II (1939-1945).  The Great Patriotic War began on 22 June 1941, when the Germans invaded the Soviet Union. Over 10 million Soviet soldiers took part in the war and of those about 12,600 earned the Soviet Union's highest military award - the Hero of the Soviet Union - for deeds of great daring and self sacrifice. This book covers the male recipients of the Hero of the Soviet Union award during the Great Patriotic War. Snipers, fighter pilots, partisans and spies are all included, together with the famous aces Pokryshkin and Kozhedub, who both gained the award an amazing three times.
My Link