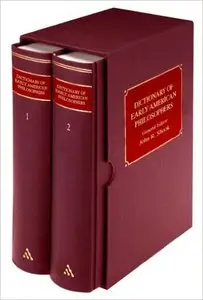 Dictionary of Early American Philosophers by John R. Shook
English | 2012 | ISBN: 1843711826 | 1288 pages | PDF | 6,3 MB
The Dictionary of Early American Philosophers, which contains over 400 entries by nearly 300 authors, provides an account of philosophical thought in the United States and Canada between 1600 and 1860. The label of "philosopher" has been broadly applied in this Dictionary to intellectuals who have made philosophical contributions regardless of academic career or professional title. Most figures were not academic philosophers, as few such positions existed then, but they did work on philosophical issues and explored philosophical questions involved in such fields as pedagogy, rhetoric, the arts, history, politics, economics, sociology, psychology, medicine, anthropology, religion, metaphysics, and the natural sciences.
Each entry begins with biographical and career information, and continues with a discussion of the subject's writings, teaching, and thought. A cross-referencing system refers the reader to other entries. The concluding bibliography lists significant publications by the subject, posthumous editions and collected works, and further reading about the subject.
My nickname -
interes