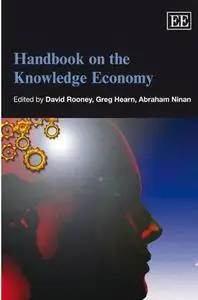 Handbook on the Knowledge Economy (Elgar Original Reference) by David Rooney (Editor), Greg Ed Hearn (Editor), Abraham Ninan (Editor)
Publisher: Edward Elgar Publishing (November 2005) | ISBN-10: 1843767953 | PDF | 2,1 Mb | 290 pages
This fascinating Handbook defines how knowledge contributes to social and economic life, and vice versa. It considers the five areas critical to acquiring a comprehensive understanding of the knowledge economy: the nature of the knowledge economy; social, cooperative, cultural, creative, ethical and intellectual capital; knowledge and innovation systems; policy analysis for knowledge-based economies; and knowledge management. In presenting the outcomes of an important body of research, the Handbook enables knowledge policy and management practitioners to be more systematically guided in their thinking and actions. The contributors cover a wide disciplinary spectrum in an accessible way, presenting concise, to-the-point discussions of critical concepts and practices that will enable practitioners to make effective research, managerial and policy decisions. They also highlight important new areas of concern to knowledge economies such as wisdom, ethics, language and creative economies that are largely overlooked. Distinguished by a combination of practical relevance and analytical rigor, this Handbook provides new insights into the basic mechanisms that constitute a knowledge economy and society, and will be invaluable to practitioners and academics in diverse areas of interest, including: knowledge management, innovation management, knowledge policy, social epistemology, and development studies.