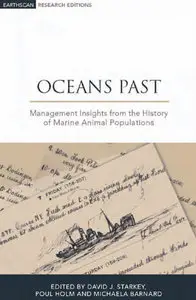 Oceans Past: Management Insights from the History of Marine Animal Populations by David J. Starkey, Poul Holm
English | December 2007 | ISBN: 1844075273 | 250 pages | PDF | 6 MB
Rarely has humanity's underestimation of the impacts of its activities been so starkly demonstrated as in the marine environment. For centuries the seas appeared to offer limitless supplies of food and other resources, their waters a cornucopia never to be exhausted.
In more recent times the extreme exploitation and subsequent collapse of cod populations of the Grand Banks off Newfoundland and tumbling numbers of North Atlantic right whales are well-known examples highlighting the fallaciousness of this view. Yet all too often the lessons from our historical interactions with marine animals are little known, let alone learned.
Based on research for the History of Marine Animal Populations project, Oceans Past is an accessible yet detailed examination of the complex relationship our forebears had with the sea and the animals that inhabit it. Adopting a multidisciplinary approach, it presents eleven studies ranging from fisheries to invasive species and from offshore technology to the study of marine environmental history itself, bringing together the perspectives of historians and marine scientists to enhance understanding of ocean management past, present and future. In addition to providing essential context to the debate around the impact of human activity on natural resources, the book also highlights the influence that changes in marine ecosystems have upon the politics, welfare and culture of human societies.
My nickname -
interes