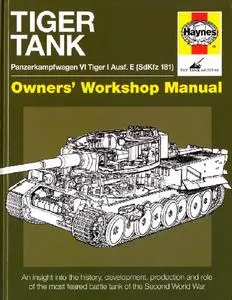 Tiger Tank (Owners' Workshop Manual)
2011 | ISBN: 1844259315 | English | 165 Pages | PDF | 55,9 MB
The German Tiger I was the most feared battle tank of the Second World War. Its invincibility lay in its main gun and heavy defensive armour. Using the successful Haynes Manual format, the Tiger Tank Manual gives an insight into acquiring, owning and operating one of these awesome fighting vehicles. The Tank Museum's Tiger '131' forms the centrepiece of this manual, which includes full photographic coverage of the strip-down of '131' and its engine. Vivid personal recollections describe what it was like to command a Tiger in war.