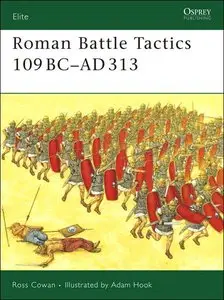 Ross Cowan, Adam Hook "Roman Battle Tactics 109BC-AD313"
Osprey Publishing | English | 2007-07-24 | ISBN: 1846031842 | 64 pages | PDF | 8,2 MB
The book clearly explains and illustrates the mechanics of how Roman commanders - at every level - drew up and committed their different types of troops for open-field battles. It includes the alternative formations used to handle different tactical problems and different types of terrain; the possibilities of ordering and controlling different deployments once battle was joined; and how all this was based on the particular strengths of the Roman soldier. Covering the period of "classic" legionary warfare from the late Republic to the late Western Empire, Ross Cowan uses case studies of particular battles to provide a manual on how and why the Romans almost always won, against enemies with basic equality in weapon types - giving practical reasons why the Roman Army was the Western World's outstanding military machine for 400 years.
To start download click HERE: