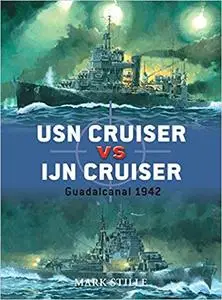 Mark Stille, Howard Gerrard, Paul Wright, "USN Cruiser vs IJN Cruiser: Guadalcanal 1942 (Duel)"
ISBN: 1846034663 | 2009 | EPUB | 80 pages | 10 MB
Although the war in the Pacific is usually considered a carrier war, it was the cruisers that dominated the early fighting. This thrilling duel presents the cruiser clashes during the crucial battles for Guadacanal in 1942, highlighting the Battle of Savo Island on the August 9 and the Battle of Cape Esperance October 11-12th , 1942. The first was an overwhelming Japanese victory that resulted in the loss of four Allied cruisers. However, in the latter, the Americans managed to successfully turn the tables despite the fact that the was fought through the night under dangerous conditions.
This book presents a side-by-side view of the design and development of the opposing weapons systems, illustrated with newly commissioned digital artwork. It uses first-hand accounts to bring the desperate battles to life and explain why the American forces suffered early on, but eventually had their revenge.