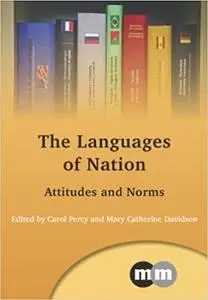 Prof. Carol Percy, Mary Catherine Davidson, "The Languages of Nation: Attitudes and Norms"
English | 2012 | ISBN: 1847697801 | PDF | pages: 311 | 1.8 mb
This collection brings together research on linguistic prescriptivism and social identities, in specific contemporary and historical contexts of cross-cultural contact and awareness. Providing multilingual and multidisciplinary perspectives from language studies, lexicography, literature, and cultural studies, our contributors relate language norms to frameworks of identity beyond monolingual citizenship - nativeness, ethnicity, politics, religion, empire. Some chapters focus on traditional instruments of prescriptivism: language academies in Europe; government language planners in southeast Asia; dictionaries and grammars from Early Modern and imperial Britain, republican America, the postcolonial Caribbean, and modern Germany. Other chapters consider the roles of scholars in prescriptivism, as well as the more informal and populist mechanisms of enforcement expressed in newspapers. With a thematic introduction articulating links between its breadth of perspectives, this accessible book should engage everyone concerned with language norms.