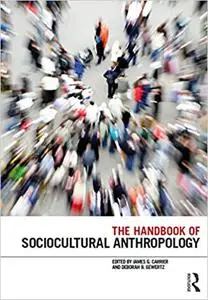 James G. Carrier, "The Handbook of Sociocultural Anthropology"
English | ISBN: 1847883842 | 2013 | 658 pages | PDF | 5 MB
he Handbook of Sociocultural Anthropology presents a state of the art overview of the subject - its methodologies, current debates, history and future. It will provide the ultimate source of authoritative, critical descriptions of all the key aspects of the discipline as well as a consideration of the general state of the discipline at a time when there is notable uncertainty about its foundations, composition and direction. Divided into five core sections, the Handbook: examines the changing theoretical and analytical orientations that have led to new ways of carrying out research; presents an analysis of the traditional historical core and how the discipline has changed since 1980; considers the ethnographic regions where work has had the greatest impact on anthropology as a whole; outlines the people and institutions that are the context in which the discipline operates, covering topics from research funding to professional ethics.Bringing together leading international scholars, the Handbook provides a guide to the latest research in social and cultural anthropology. Presenting a systematic overview - and offering a wide range of examples, insights and analysis - it will be an invaluable resource for researchers and students in anthropology as well as cultural and social geography, cultural studies and sociology.