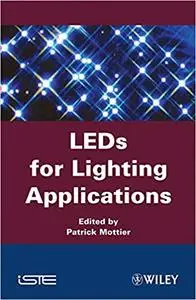 Patrick Mottier, "LED for Lighting Applications"
English | ISBN: 1848211457 | 2009 | 288 pages | PDF | 5 MB
Light Emitting Diodes (LEDs) are no longer confined to use in commercial signage and have now moved firmly, and with unquestioned advantages, into the field of commercial and domestic lighting. This development was prompted in the late 1980s by the invention of the blue LED, a wavelength that had previously been missing from the available LED spectrum and which opened the way to providing white light. Since that point, LED performance (including energy efficiency) has improved dramatically, and now compares with the performance of fluorescent lights - and there remain further performance improvements yet to be delivered.
The book begins with the principles of LED lighting, then focuses on issues and challenges. Chapters are devoted to key steps in LED manufacturing: substrate, epitaxy, process and packaging. Photoelectric characterization of LEDs, Lighting with LEDs and the imposition of a certain level of color quality, are the subject of later chapters, and finally there is a detailed discussion of the emergence of OLEDs, or organic LEDs, which have specific capabilities of immediate interest and importance in this field.