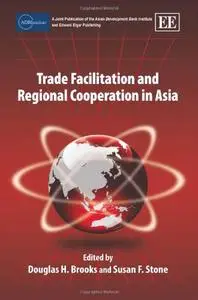 Trade Facilitation and Regional Cooperation in Asia by Douglas H. Brooks and Susan F. Stone
English | 2010 | ISBN: 1848449860 | 208 pages | PDF | 1,4 MB
This book is an important contribution to the policy debate on the future of regional integration around the world, and in Asia in particular. The complex linkages between regional integration and regional cooperation, soft and hard integration, trade facilitation and regional infrastructure are all addressed competently in different chapters of this publication, which should be read by all of those concerned with the future of regional integration and cooperation in Asia.
Antoni Estevadeordal, Inter-American Development Bank (IDB)
As we emerge from the worst global economic setback in two generations, the momentum of Asian economies suggests that this region will redefine the geography of trade and growth even more quickly and decisively than expected. Because Asia offers the largest emerging markets, superior growth rates, and new patterns of trade diversification, this region is becoming the leading edge of the global economy for the next generation. This volume addresses the essential issues related to Asian trade and regionalism with intellectual authority and essential timeliness. Brooks and Stone have assembled leading experts, distilled evidence, and synthesized policy lessons on the salient issues and trends that will drive the world s most dynamic economic region. Their book should be a desk reference for policy-makers and leading private sector players who want to respond effectively to the momentous challenges and opportunities presented by the Asian century.
David Roland-Holst, University of California, Berkeley, US
This insightful book collects empirical analyses and case studies to clarify issues and draw policy recommendations for facilitating greater regional trade through increased cooperation.
Asia s rapid development has been heavily dependent on markets external to the region. However, given the unlikely timely recovery of the United States or Europe there is an urgent need to develop domestic and regional markets. While greater integration has long been a regional goal, its importance has never been more pressing. To facilitate trade and promote growth and regional integration, and to counteract declining markets in other regions, Asian countries have announced large expenditures for developing infrastructure. Thus, a look at how investment in regional infrastructure promotes and supports interregional trade growth has never been timelier. While the focus is on informing policy-making in Asia, the findings also have relevance for other regions.
The detailed studies in this book will be of particular interest to academic economists, policy-makers, and the broader development community.