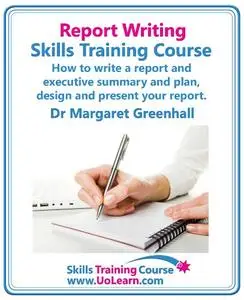 Margaret Greenhall, "Report Writing Skills Training Course. How to Write a Report and Executive Summary, and Plan, Design and Present Your Report. an Easy Format for Writi"
2010 | pages: 104 | ISBN: 1849370362 | EPUB | 0,9 mb
Report Writing Skills Training Course This book makes report writing a step by step process for you to follow every time you have a report to write. Margaret's understanding of how people read and remember gives a unique view to the process of report writing. This book brings you her tried and tested training techniques to make the process of writing a report straight forward. "It's all about the reader." How to set objectives using 8 simple questions. Exercises to help you enhance your skills. Easy to follow flow chart giving a step by step method for writing the report. Fun to use planning tools. Free downloadable workbook. What is an executive summary and how to write one. Types of reports and how to structure them. How to layout the report. Help people remember what they read. About the author - Dr Margaret Greenhall As a chemistry lecturer Margaret helped her students learn study skills, including report writing. She then moved to the University of Manchester helping other lecturers to implement novel teaching and learning methods. As well as her PhD in science, Margaret has also been awarded a Masters in Education. In 2003 she started her own business, training people in a wide range of skills, including improve your memory, speed reading, mindmapping and report writing. Her background in science brings a logical and simple approach to her training and writing that gives very easy recipes for you to follow. What do people think of Report Writing Skill Training Course? "Very useful, it has given me a great number of useful tips and information" "This will help me to organize and structure my work in a logical way." "I will now have a structure to use when preparing future reports and I will feel much more confident in doing this." "I now understand how important preparation is when writing a report." "The list of eight questions is fantastic, I will always use this for my reports from now on." "Very informative and useful." "These techniques can be applied in my work straight away." "Extremely interesting and useful - vital preparation if you need to write reports for work."
My Link